CREW-St. Louis is managed by a Board of Directors that works together to set and accomplish the Chapter's strategic goals—helping to advance, educate and support women to influence the commercial real estate industry. Serving on the CREW-St. Louis Board of Directors offers a unique opportunity for leadership and networking among other ambitious women and men working in the commercial real estate field. Our Board members, directors and committee chairs typically serve individual terms of one year but may serve longer depending on the position and their interests.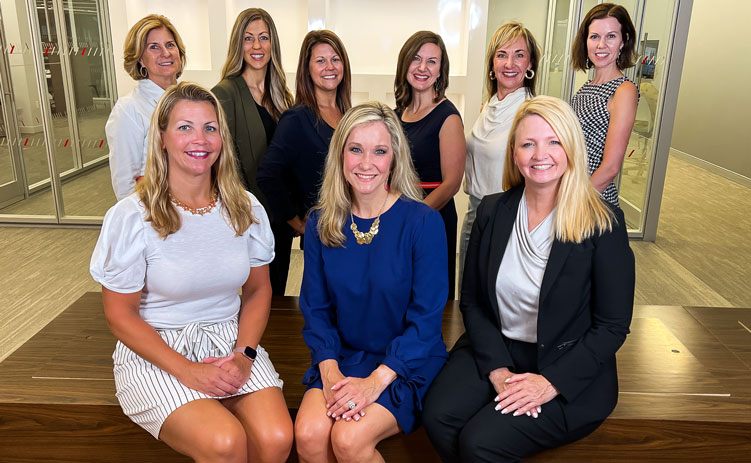 Past Presidents
2022 Stacey Kamps
2021 Nancy Petersen
2020 Tracy Howren
2019 Michelle Yates
2018 Lynn Thompson Goessling
2017 Angie Earlywine
2016 Monica Conners
2015 Karen Karwoski*
2014 Karen Karwoski and Merri Cross*
2013 Angie Earlywine and Merri Cross*
2012 Amy K. Mistler
2011 Ann Schmelzle
2010 Nancy Rodney
2009 Amy Garrison
2008 Amy Garrison
2007 Jenny Marler
2006 Lisa Pool Byrne
2005 Julie Nies
2004 Crystal Kennedy
2003 Marcia Niedringhaus
2002 Sandra Stoner
2001 Tonja Hilton
2000 Anne Dulle
1999 Wendy Timm
1998 Vicki Dolan
1997 Carole Jamison
1996 Judy Franzi O'Donnell
1995 Gina Lee
1994 Mary Moorcamp
1993 Diane Davis
1992 Jean Daniel-Gentry
1991 Rebecca Nolan
1990 Mindy Koman Pultman
1989 Sally Anderson
1988 Ellen Mannion
1987 Jane Carlos Hawkins
1986 Jane Carlos Hawkins
1985 Sally Anderson
1984 Bobbi Muskopf
1983 Donita Rachell
1982 Linda Gunther

*President's term usually runs a calendar year. In the summer of 2013, Angie Earlywine transferred to Chicago for a new opportunity. Merri Cross and Karen Karwoski each served as presidents for 18 months to provide continuity in the chapter's leadership.